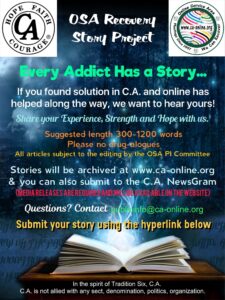 Media Release for Story Project
The undersigned acknowledges that by submitting your story recovery story directly, or being interviewed for your recovery story, you agree to the following:
You are granting the OSA PI Committee permission to publish your story on www.ca-online.org.
The OSA PI Committee reserves the right to edit your submission for clarity.
You retain all rights to your story.
You may request to be named as "anonymous" if parts of your story are used for social media purposes.
If interviewed, you will receive a draft of the story via email prior to publication.