OSA Weekly Virtual Meetings
Sunday | Monday | Tuesday | Wednesday | Thursday | Friday | Saturday
MEETING/GROUP TYPES:
OPEN: Attended by C.A. members, their families, friends and other interested people.
CLOSED: Attendance is limited to C.A. members only.
Cocaine Anonymous Around the World Clock

Pacific Standard Time (PDT)
Eastern Standard Time (EDT)
Greenwich Mean Time (GMT)
British Standard Time (BST)
Central European Summer Time (CEST)
Sweden, Stockholm
South Africa, Johannesburg
Thailand, Bangkok
Asia, Hong Kong
Australia, Melbourne
Please check the time above for the time zone you are in.  U.S. Daylight Savings and U.K. Daylight Savings happen about two weeks apart. U.K. falls back at 2am Sunday October 25th/U.S. falls back at 2am Sunday November 1st. The schedule can vary and be 1 hour different during that period.
---
The Real Deal
11am East USA & Canada | 4pm UK Time | 5pm South Africa
OPEN – BIG BOOK – PARTICIPATION
https://us02web.zoom.us/j/6146699064?pwd=cjg4NXF3dWszMTRiTlM5NG5UYkxydz09
Meeting ID: 614 669 9064
PW: 416648
---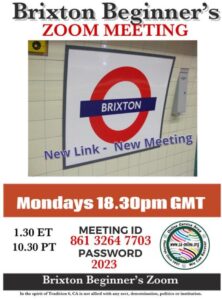 Brixton Beginner's Zoom Meeting
Monday's @ 1:30 pm ET | 10:30 am PT
Zoom ID: 861 3264 7703
PW: 2023
---
Big Book Comes Alive Ijsselstein Netherlands Group
Monday's @ 20.00 CEST / 2:00 pm eastern US / 7:00 pm UK
Zoom ID: 328 462 9576
https://us02web.zoom.us/j/3284629576?pwd=N05hUHNhZmpGbVJKem5pbWZaQzlsZz09
---
Guerreiros da Luz
Mondays @ 2:00 pm Eastern | 7:00 pm GMT | 8:00 pm UK
"Portuguese speaking language meeting"
Zoom ID: 863 4175 1104
PW: LUZ
https://us06web.zoom.us/j/86341751104?pwd=dTlkT3RodUhjRUk2TDA5dFdaN05kQT09
---
Monday Newcomers Meeting
Monday | 2:30pm eastern US / 7:30 pm UK
Join Monday Newcomers Meeting from your computer, tablet or smartphone at:
https://us02web.zoom.us/j/2758035650?pwd=S01SZUFOMEFyRktKU1JzR2ZUUHBidz09
Meeting ID: 275 803 5650
Passcode: JhA6BV
---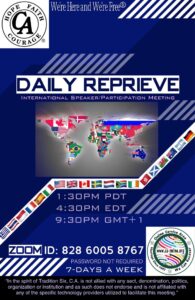 Daily Reprieve
7 Days a Week
4:30pm East USA & Canada | 1:30pm West USA & Canada | 9:30pm UK Time
Join Daily Reprieve from your computer, tablet or smartphone at: 
https://us02web.zoom.us/j/82860058767
Meeting ID: 828 6005 8767
+44 203 051 2874 United Kingdom
+44 203 481 5237 United Kingdom
+1 929 436 2866 US (New York)
+1 312 626 6799 US (Chicago)
+1 253 215 8782 US (Tacoma)
---
New Freedom
Women's Online Meeting
6:00 pm EST | 5:00 pm CST | 3:00 pm PST | 11:oo pm UK
Meeting ID: 710 3835 8690
PW: 2022
---
Reaching Out 121
7 Days a Week – Closed Meeting
6pm East USA & Canada | 3pm West USA & Canada | 10am Sydney | 11pm UK Time
+44 203 051 2874 United Kingdom
+44 203 481 5237 United Kingdom
+1 929 436 2866 US (New York)
+1 312 626 6799 US (Chicago)
+1 253 215 8782 US (Tacoma)
Join Reaching Out 121 from your computer, tablet or smartphone at: https://us02web.zoom.us/j/87977458088pwd=d0ROaEw4dmQ3TTJsaWZyd2lUTlVtQT09
Password: 750811
Meeting ID: 879 7745 8088
---
Last House on the Block
Runs during the following times:
PST: 10am – 10pm
CST: 12pm – 12am
EST: 1pm – 1am
GMT: 6pm – 6am
See you there!Meeting ID – 819 0806 3982
Passcode: 123
https://us02web.zoom.us/j/81908063982?pwd=bGNyRmlvSEdSYzVGV0pReG4rUG1XZz09